admin / March 28, 2019
Jerry Heare; SIOR, a Sr VP at Commercial Industrial Properties Company of Austin is the lead Austin Broker who made the site location search of the Austin area on behalf of ENF Technologies of Korea. Kyle, Texas is the location recently announced by WJ Yang, ENF General Manager.
The site research took over two years covering potential locations in Austin and the surrounding communities.
The facility is estimated to cost over $45 million and employ 40 personnel initially with average salaries near $85,000 yr.
Heare participated with the Samsung site location team in 1997 and has located industrial facilities in most cities around Austin.
To read more about this deal, click here for the ABJ article and click here for the Texas Real Estate Business article and click here for the CoStar article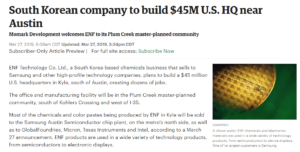 «
Previous
Next
»